Enabling Biometrics in Horizon View 6.2
Horizon 6.2 Introduced Biometric Authentication, with initial support for TouchID on IOS devices.
This post will explain how to enable it, as its not really something greatly documented right now. I think they are aware and hopefully in a future update this will be easier.
Here is a link to the current VMware documentation.
NOTE: This feature does require a 3rd party trusted signed certificate to work. From my current testing and speaking with others self-signed certificates will not function.
Log on to your connection server and launch ADSI Edit.
In the Connection Settings dialog box, select or connect to DC=vdi,DC=vmware,DC=int.
In the Computer pane, select or type localhost:389 or the fully qualified domain name (FQDN) of the View Connection Server host followed by port 389.

For example: localhost:389 or mycomputer.mydomain.com:389

On the object CN=Common, OU=Global, OU=Properties, edit the pae-ClientConfig attribute and add the value BioMetricsTimeout=-1.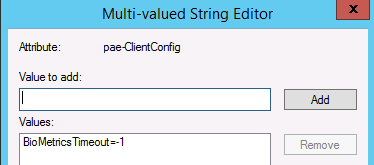 The new setting takes effect immediately. You do not need to restart the View Connection Server service or the client device.
comments powered by

Disqus
See Also