Unregistering vSphere 6 VCSA from PSC
So I am in the process of doing some vSphere 6 testing and needed to test a redeployment of one of my VCSA's. The problem is when I went to redeploy it I got the following error.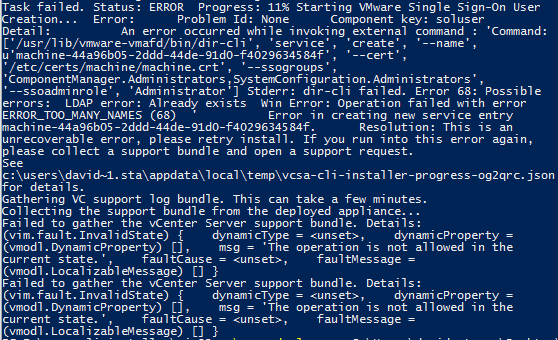 Decoding the error, I pretty much figured that the object already existed in the SSO database and I needed to delete the existing object. Here is how you do that.
Log in as root to the appliance shell of the Platform Services Controller appliance with which the vCenter Server Appliance is registered.
To enable the Bash shell, run the shell.set –enabled true command.

Run the shell command to start the Bash shell and log in.

Run the cmsso-util unregister command to unregister the powered off vCenter Server Appliance.

cmsso-util unregister –node-pnid vCenter-FQDNorIP –username administrator@your_domain_name –passwd vCenter-Single-Sign-On-password

The object is now deleted and you can redeploy your VCSA!
comments powered by

Disqus
See Also