vSphere 6.5 - New License Import from My VMware
So as everyone has probably seen, vSphere 6.5 is now GA. As usual right away I have upgraded the homelab and have already found a neat new feature.
When you are adding in your VMware licenses, you now have an option to Import License Keys Data…
To start you need to generate a report from my.vmware.com.
Log in and Navigate to Download Reports

Click on the Available Reports dropdown, and select the Product Licenses, Details and History. You will be asked which account you would like to select, and if there was a specific timeframe to select. In my case i have selected all accounts and then click Create.

The report will take about a minute to generate. You can click on Refresh Table. Once the report shows as complete. You can download it as a CSV. You will need this to complete the next steps.

Log into your vSphere 6.5 Flash client (http://fqdn/vsphere-client) and click on Home and then Licenses. In the top right corner you will see an option to Import License Keys Data…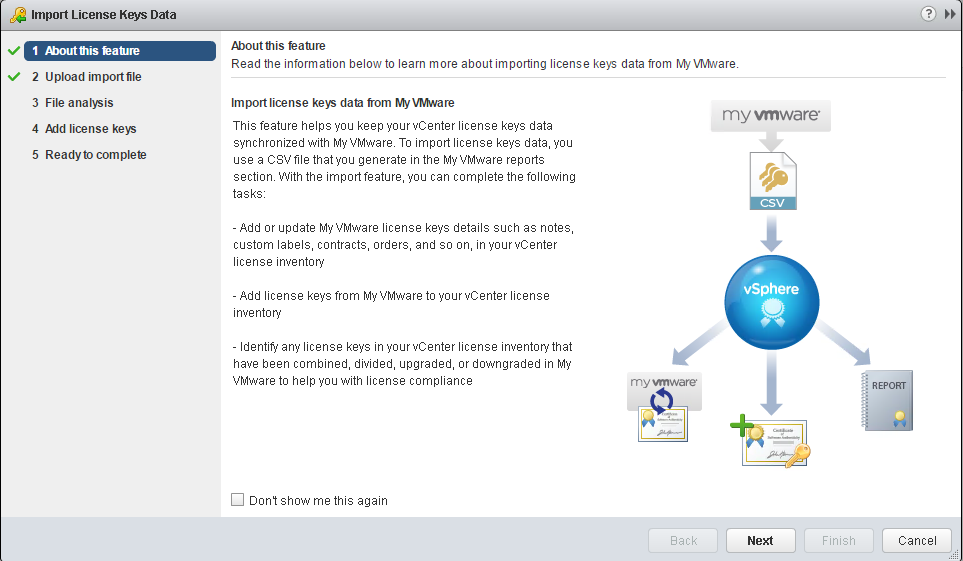 Now you will browse to the file you downloaded from my.vmware.com. If you have not downloaded it yet, you can select on Learn how to generate this CSV file to be shown the steps. Click Next.

At this point, the uploaded CSV file will be analyzed to see what licenses can be imported into your vCenter Inventory. Click Next.

The next screen will show what licenses were part of the CSV and give you an Overview. Click Next.

If you have any existing keys, it will update them with the My VMware settings, if there are new keys it will add them with the notes from My VMware.
This new feature is definitely a step in the right direction. Maybe in vNext you can log directly into your My VMware account from the Web Client and have it automatically pull in your licenses.
comments powered by

Disqus