Using vRealize Automation 8.x with the Pure Storage vRealize Orchestrator Plugin
Previously I explained how to use the vRealize Orchestrator Plugin 3.5 with vRealize Orchestrator and Automation 7.x. Back in November of 2020 we released the latest update to our vRO workflow package 4.0 which introduced support for vRealize Automation/Orchestrator 8.x! Our integration with vRA utilizes the vRO Plugin and allows users to self-provision their infrastructure using all the goodness included with vRA such as blueprints, approval workflows and reservations. Lets Dive in and take a look!
Table of Contents
Configuring the vRealize Automation built-in vRealize Orchestrator Server
Luckily when vRealize Automation is deployed, vRealize Orchestrator is included. How do you access it? Navigate to your default vRA URL and click on Orchestrator

In order to setup the vRO workflows in vRealize Automation we must first import the Pure Storage Plugin, the instructions to install and configure vRealize Orchestrator can be found in the vRealize Orchestrator 8.x User Guide
Configuring vRealize Automation to deploy vRealize Orchestrator Workflows
Once your plugin has been imported to vRealize Orchestrator we can setup vRealize Automation. Let's navigate to the Service Broker.
If you have not already setup a Project and a Cloud Zone you can easily use the vRealize Automation Quickstart to setup the base infrastructure.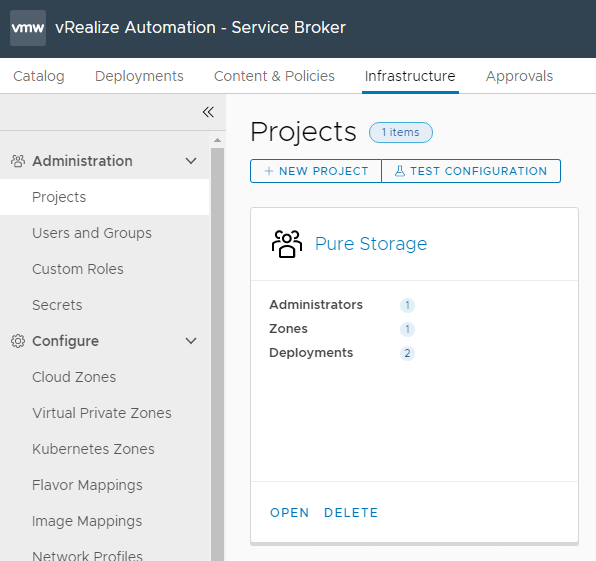 Next, navigate to Infrastructure and then Integrations under Connections. Select vRealize Orchestrator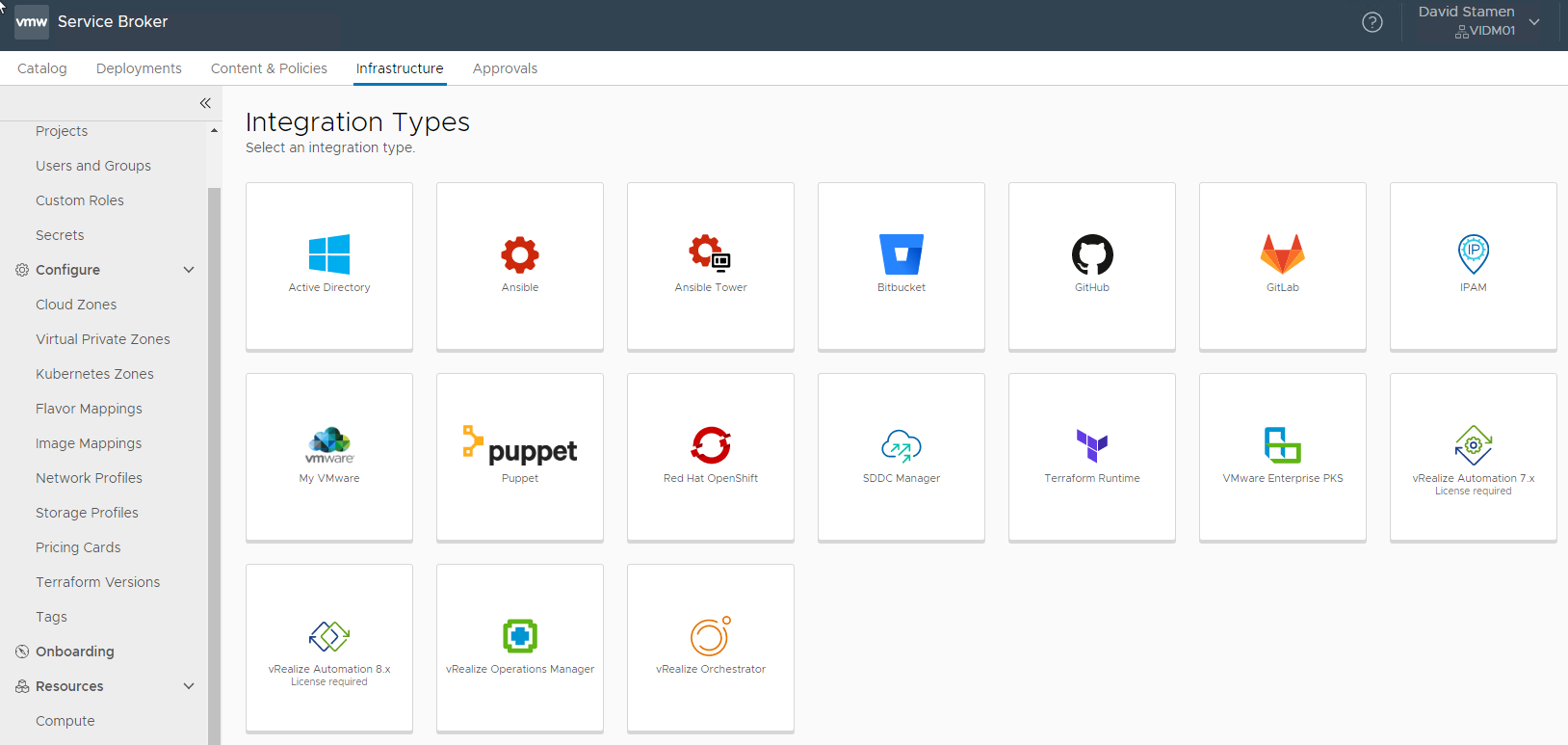 Enter a name, the URL to your vRA (or vRO if external) and hit validate. Once complete click Add.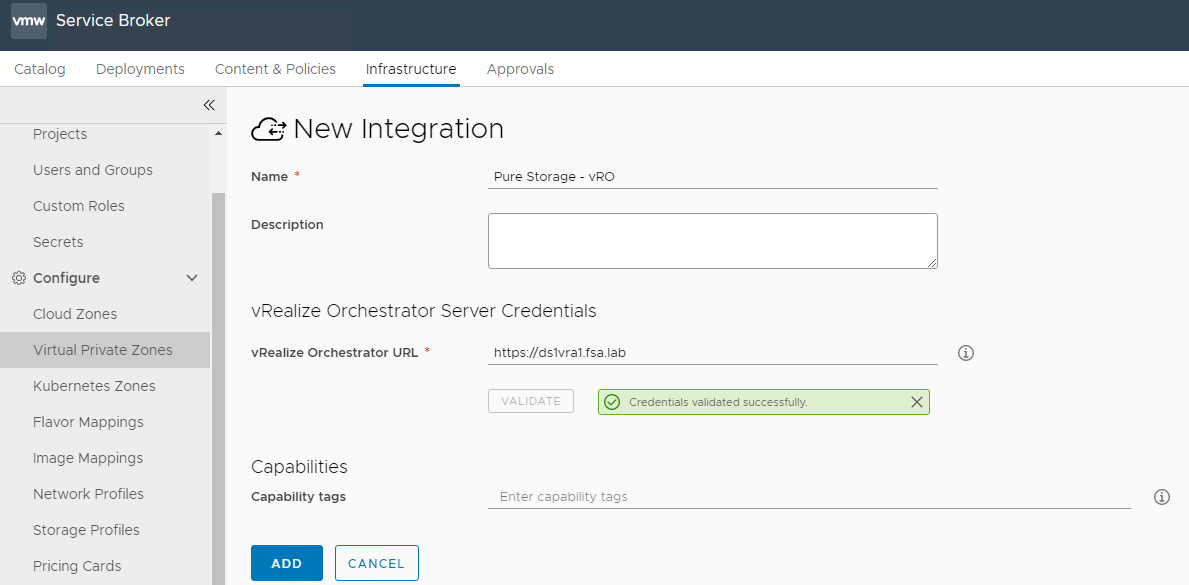 Next, we must setup vRealize Orchestrator as a Content Source. Within Service Broker, navigate to Content & Policies and then Content Sources and click New and select vRealize Orchestrator Workflow. Provide a name and select Add to select the associated Pure Storage workflows. Once complete click Create & Import.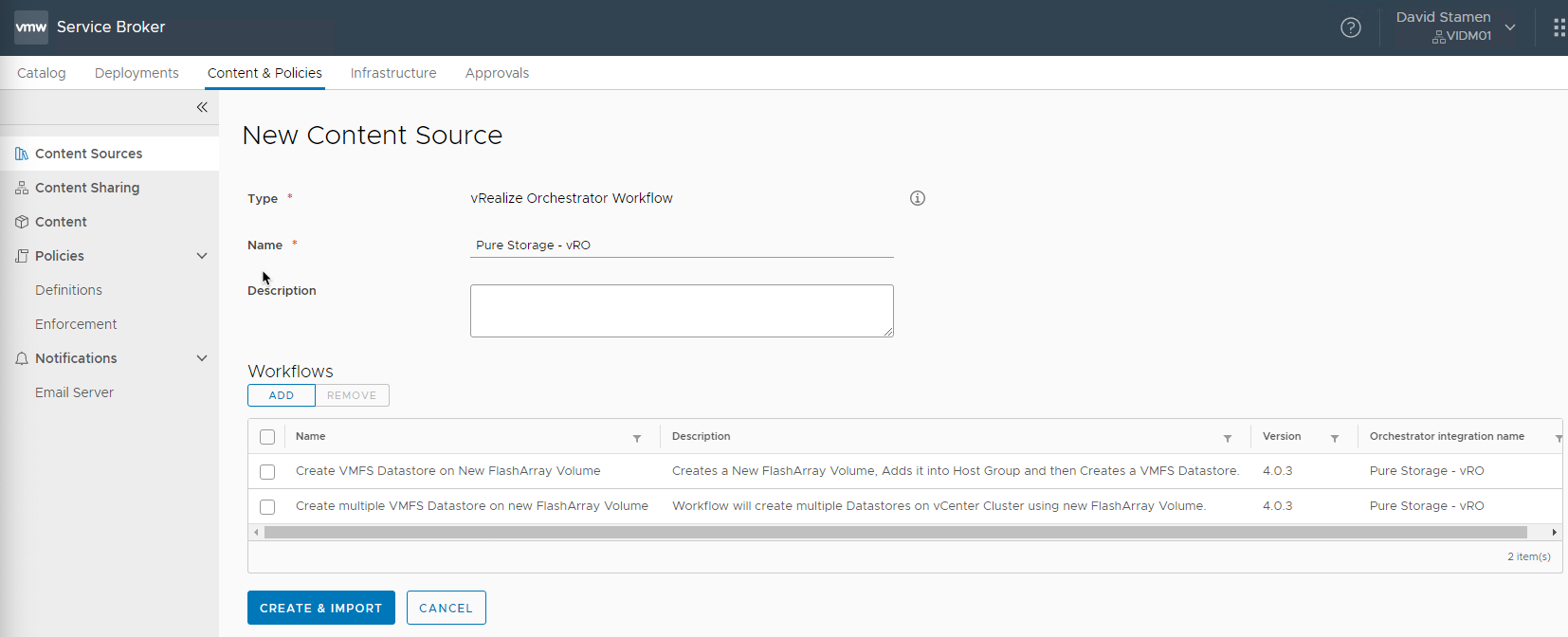 Lastly, navigate to Content Sharing choose your project from the dropdown and select Add Items. Select the Content Source you created earlier and select add. You should know see the workflow items shared with your project.

Utilizing the Workflows via vRealize Automation
We are now ready to begin deploying the Pure Storage Workflows. If you navigate to the Catalog youll see your workflows as catalog items.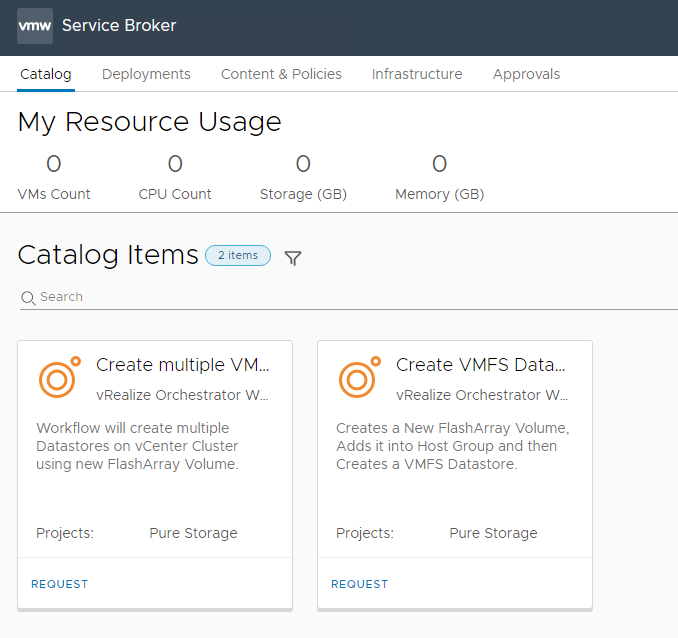 Choose one and select Request. A custom form will show up.
For the Create VMFS Datastore on New FlashArray Volume Lets give it a deployment name, choose the vCenter Server cluster and choose a FlashArray connection.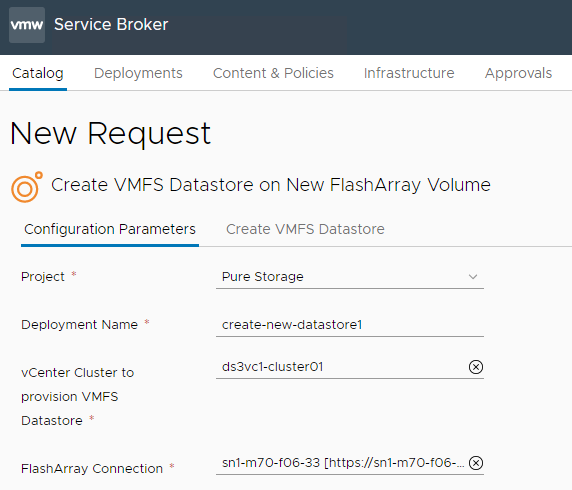 On the next tab, we will provide a name, and size for the datastore and click Submit
Track your status and watch vRA and vRO work together to provision your infrastructure.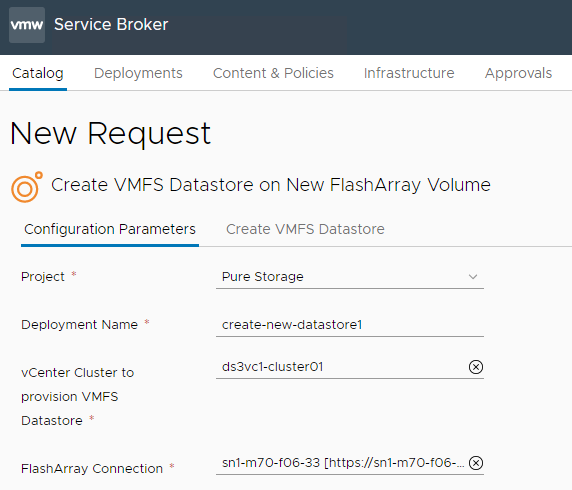 There are many more Pure Storage Workflows available! Have you tried them all?
Conclusion
This is only the beginning of your Automation journey, take a look at all there is to offer with the vRA and vRO integrations.
Is there something you would like to see in a future release? Leave a comment below!
comments powered by

Disqus
See Also