What's New in the Pure Storage vRealize Orchestrator Plugin 3.5
Released on July 30, 2020 the latest vRO plugin for vRealize 7.x is here!
This release is an update to bring additional workflows and consolidation of packages for vRealize Orchestrator 7.x. Previously there was a seperate FlashArray Plugin and then additional workflow packages for vVol's as well as Pure1. With the release of the version 3.5 of the plugin all these are part of a single package.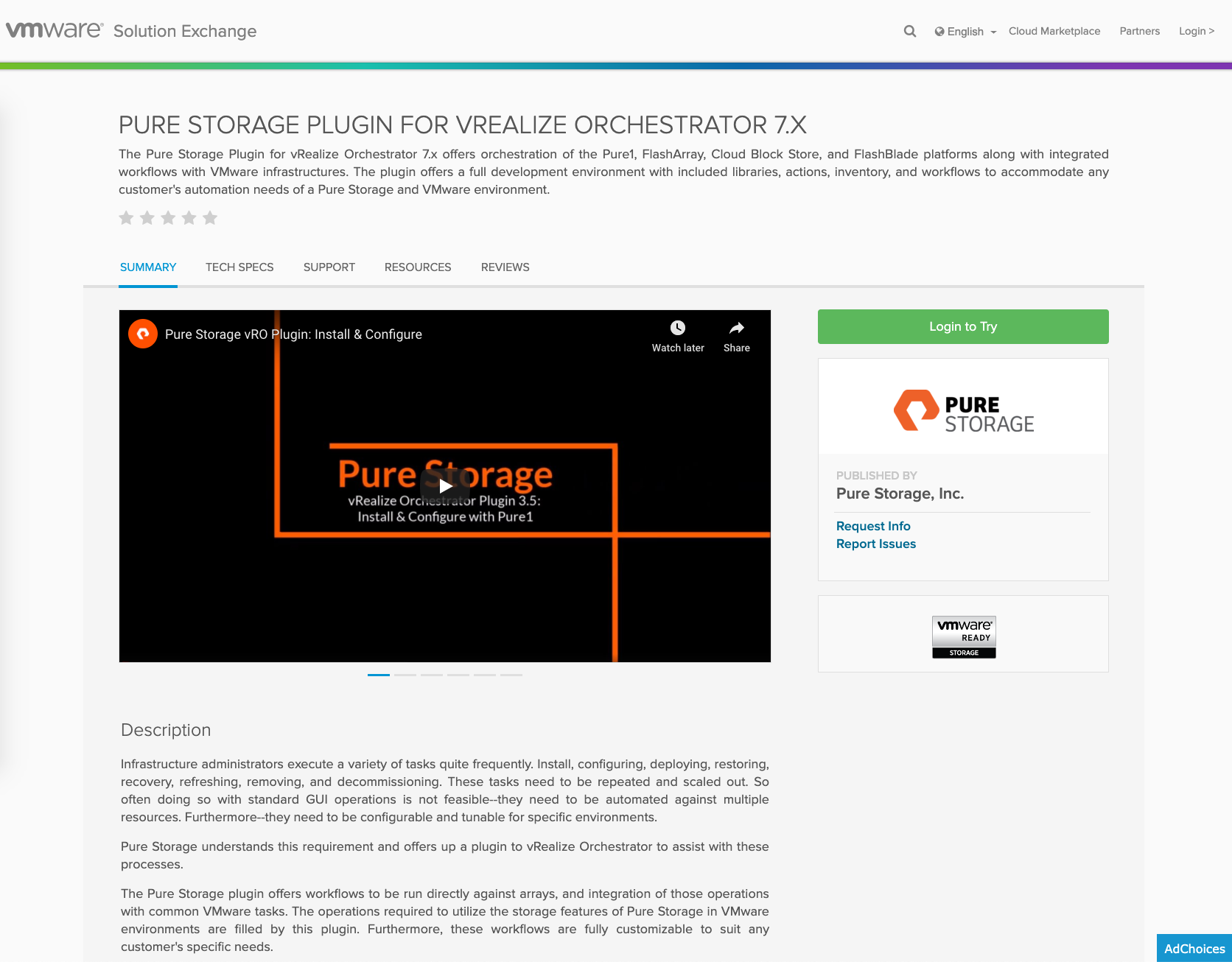 Where Can I Get It
The Pure Storage Plugin for vRealize Orchestrator 7.x can be found on the VMware Solution Exchange
Documentation
The Release Notes
Release Notes for the Pure Storage FlashArray Plugin for vRealize Orchestrator 3.5
What's New
Integrated Pure1 Authentication
Integration of vVol Workflow Package
Integration of Pure1 Workflow Package
FlashBlade Authentication
Volume group objects are integrated into plugin
Fixes
Volume membership of protection group fails when a volume is in a destroyed protection group
Improved handling of vVol workflows
Pure1 registration now places array in correct Pure1 organizations
FlashArray connection update updates the connection into the correct Pure1 organization
Provisioning skips hosts in maintenance mode
Over 50 additional fixes and improvements in this release.
Known Limitations / Issues
No support for vRealize 8.x–there will be a new release shortly for this support
No support for FlashArray REST 2.x
Compatibility
vRealize Orchestrator 7.2+ is supported, 7.4 and later is recommended
FA Purity 4.10.x and later
FB Purity 3.0.x and later
vVol workflows required vCenter 6.5 and later and Purity 5.3.6 and later
VMware Compatibility Guide Listing for Pure Storage FlashArray Plugin for vRealize Orchestrator
Report an Issue or Feature Request
Something new we are doing is also adding the plugin to GitHub. If you have found an issue or would like a feature request with any of the integrations please open an issue within the plugin GitHub repository.
Wrap Up
Even though vRO 8.x is out, its great to see an update for many of our customers who still run 7.x. Its also great to see the consolidation of workflows into a single package and increasing support for more workflows without forcing the need for an upgrade.
What would you like to see next? Leave a comment below!
comments powered by

Disqus
See Also